Lake Erie Fishing Charters
Lake Erie fishing charters have never been more exciting than when you join Captain John for a day of walleye fishing on Lake Erie. We specialize in Lake Erie Walleye Charters and using my thirty two years of fishing charter experience I will guide you to the hots spots for walleye, small mouth bass or yellow perch fishing in the fall. Call Captain John at 419-345-3948 to book your 2018 walleye charters.
Recent Walleye Hatches
The walleye hatches in 2014 and 2015 were both above average walleye hatches. The 2015 walleye hatch was 3 times better than the 2014 hatch. The 2018 walleye hatch is larger than the previous three hatches together, and will get to keeper size in 2021. All these walleyes in 2019 will be keeper size walleyes according to the Ohio Division of Natural Resources, therefore call 419-345-3948 to book your walleye charters for the 2019 season on Lake Erie.
Great Lake Erie Walleye Charters
Our Lake Erie Fishing Charters offer the finest fishing on the lake aboard the Shamrock II, Where Walleyes are King. Lake Erie is world-famous as THE place for great walleye fishing. It is also the home to many fishing tournaments for both walleye and smallmouth bass.
Lake Erie produces many trophy sized walleye and bass each year. Captain John's customers keep coming back year after year and that is proof of how much they enjoy Lake Erie and their fishing charters aboard the Shamrock II. Come join Captain John and you will see what all the excitement is about.
This Walleye Season
This Walleye Fishing Season on Lake Erie we will see coolers full of 16 to 30 inch walleye. Average weight should be 2 to 10 pounds. The Lake Erie walleye hatch was good in 2014 and above average in 2015, therefore we expect great walleye fishing for several years on Lake Erie. The perch hatches have been good for 4 years in a row on Lake Erie.
You will be fishing on a fully outfitted charter boat with all the best drifting and trolling gear to meet all weather conditions on Lake Erie besides that it is outfitted with the latest US Coast Guard approved safety gear.
Catch The Excitement ! Call Captain John at 419-345-3948 today. Walleye Fishing and Perch Fishing season is getting started. Book your fishing trip soon!
Fishing Lake Erie Where Walleyes Are King – near Port Clinton, Ohio
You will be fishing with Captain John, a full time charter captain on Lake Erie therefore you will have one of the most seasoned captains on Lake Erie as your fishing guide.
Booking A Fishing Charter
It is easy to book your fishing charter online because the work you put in should be on board the Shamrock II not our website. Simply navigate to the Lake Erie Charter Rates page and choose your charter. Check the calendar for available dates then you can pay online by clicking on the Payment Button below the charter of your choice.
You can also book a Lake Erie fishing charter by sending us a message through our Contact Us drop down (upper right of any page) or calling us 1-800-758-ERIE (3743).
We fish Lake Erie's western basin from a 30′ Baha Fisherman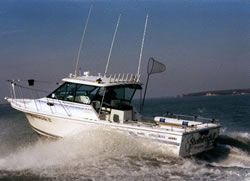 Fast and seaworthy
Lots of fishing room
Fully insured and equipped for your safety
Fish Finders & Marine Radios
Clean and comfortable for your pleasure
Private restroom on-board
GPS System to keep you on the fish