Lake Erie Fishing Charters
"Have you ever wanted to catch some delicious walleye in Lake Erie? It's known for having some of the freshest fish, and the walleye population has been booming lately. As a result, you can expect some thrilling fishing experiences. Don't let this opportunity slip away!
"Join Captain John for an unforgettable fishing experience on Lake Erie. With over 30 years of experience, Captain John is a skilled charter guide specializing in walleye and perch fishing in the western basin of Lake Erie. You can maximize your fishing trip with his expertise.
Book a Fishing Charter with Captain John for 2024. Count on his expertise to take you to the hottest spots in Lake Erie. Contact him today at 419-345-3948 to reserve your charter.
Walleye Trip!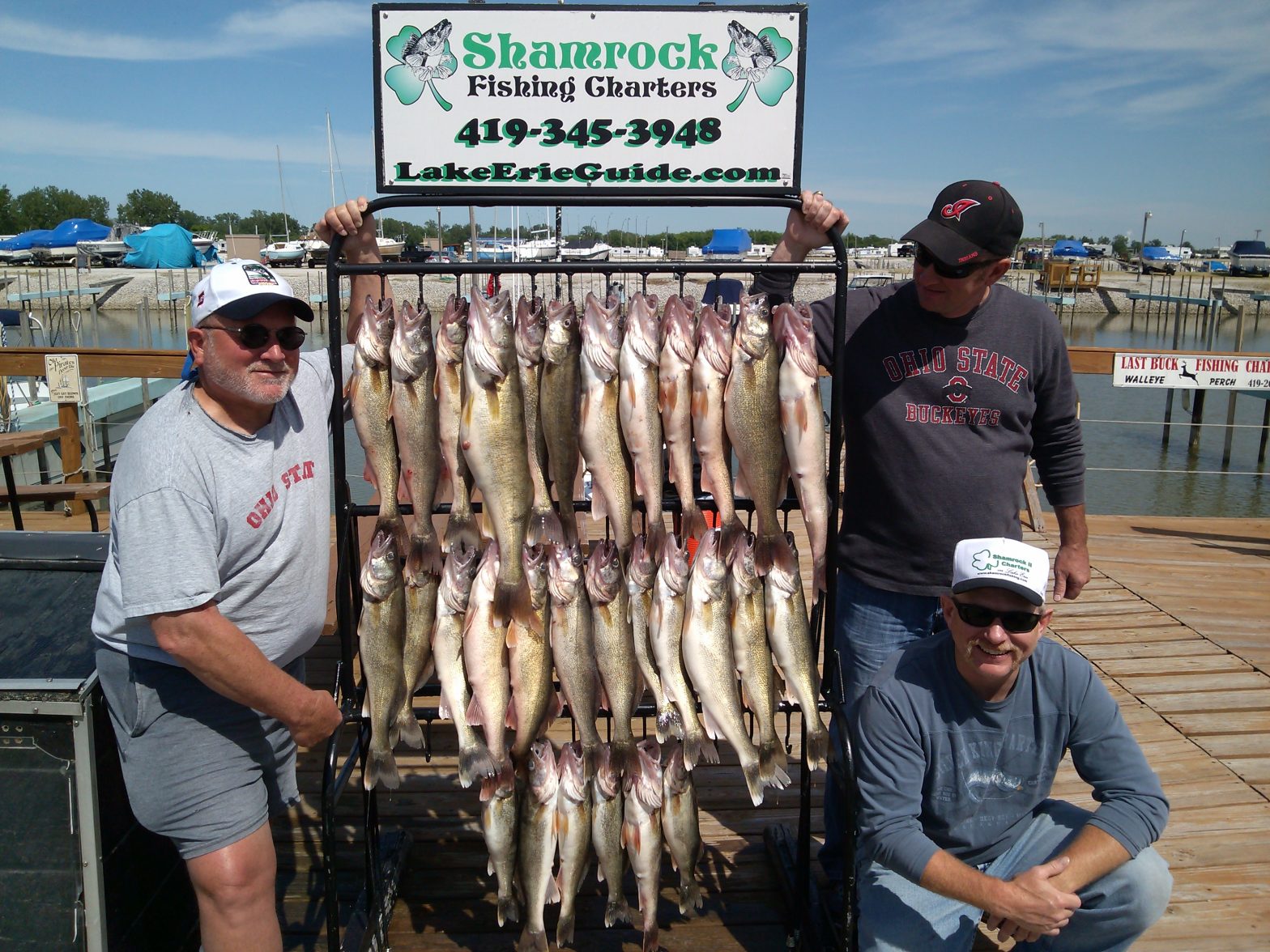 Are you ready for some fantastic walleye fishing in 2024? The trawl surveys conducted in the western basin of Lake Erie show that there have been significant walleye hatches in 2015, 2018, 2019, and 2020. The 2021 hatch was the fifth largest in 35 years, and the 2022 hatch was the ninth largest. This means the walleye population thrives, and we can expect great fishing in 2024. Estimates suggest that there will be an impressive 151 million walleye to catch! Book your charter now and prepare for some unforgettable Lake Erie fishing experiences!
Suppose you want a successful walleye fishing experience while ensuring a steady supply of young walleye fish in the Western Basin of Lake Erie. In that case, you can book your next fishing trip with Captain John at Lake Erie Walleye Charters.
As an angler, you might find walleyes that are 20 to 25 inches in size, which are part of the 2014 and 2015 classes. Moreover, plenty of walleyes from the 2018 class are at least 17 inches. In the last fall perch season, we caught multiple small walleyes measuring six inches, indicating that they were from this year's hatch.
Ohio's annual fishing licenses are now valid 365 days from the date of purchase, and you can buy multiple other licenses. Now. http://www.wildohio.gov
Are you searching for a superb Lake Erie walleye charter?
Are you interested in an unforgettable fishing adventure on Lake Erie? Look no further than our fishing charters aboard the Shamrock. As one of the premier walleye fishing destinations in the world, Lake Erie has plenty to offer anglers of all skill levels. Not only that, but the lake also plays host to various fishing tournaments for walleye, perch, and smallmouth bass. So why wait? Book your trip today and make lasting memories on the water!
Customers return yearly to join Captain John aboard the Shamrock for exciting fishing charters on Lake Erie.
On your trip, you'll get to fish on a 30-foot Baha Fisherman charter boat equipped with top-quality drifting and trolling gear to tackle any weather conditions on Lake Erie. The ship also has all the latest US Coast Guard-approved safety gear to ensure your safety throughout the trip. You'll have plenty of room for fishing in the boat's large open cockpit, and there's enough space under the hardtop to seek shelter from the sun or rain if necessary. Additionally, the ship features a private head/restroom for your convenience, ensuring a clean and comfortable fishing experience.
Are you ready to experience the thrill of fishing? Why not contact Captain John today at 419-345-3948 to book your trip? Lake Erie, also known as the Kingdom of Walleyes, is located west of Port Clinton, Ohio, and east of Toledo, Ohio. You don't want to miss out on this unforgettable adventure. Reserve your spot soon! Our boat is docked at Meinke West Marina.
Are you looking to book a fishing charter? We've got you covered! Our website is designed to make the booking process quick and easy so you can focus on the excitement of your upcoming fishing trip. Start by checking out our Lake Erie Charter Rates page, where you'll find a variety of charters to choose from. Once you've found the right one, head to the Booking Calendar/Charters page to see the available dates. To secure your spot, click the Payment Button and pay online. If you prefer, you can also reach us by phone or text at 419-345-3948. We're here to help you plan the perfect Lake Erie fishing adventure!
Fishing Lake Erie's western basin is a breeze on the 30′ Baha Fisherman. With ample fishing space, full insurance, and equipped fish finders, marine radios, and a restroom onboard, your safety and comfort are guaranteed.