Lake Erie Fishing Charters
Lake Erie Fishing is booming for walleyes, perhaps the best-tasting freshwater fish you can eat. The dull-eyed walleye domination is in a population explosion expected to grow to record numbers.
Lake Erie fishing charters have never been more exciting than when you join Captain John for a day of walleye fishing on Lake Erie. We specialize in walleye and perch charters in the western basin of Lake Erie.
Captain John will use his thirty-plus years of fishing charter experience to guide you to the hot spots. Call or text Captain John at 419-345-3948 to book your 2023 fishing charter.
Recent Walleye Hatches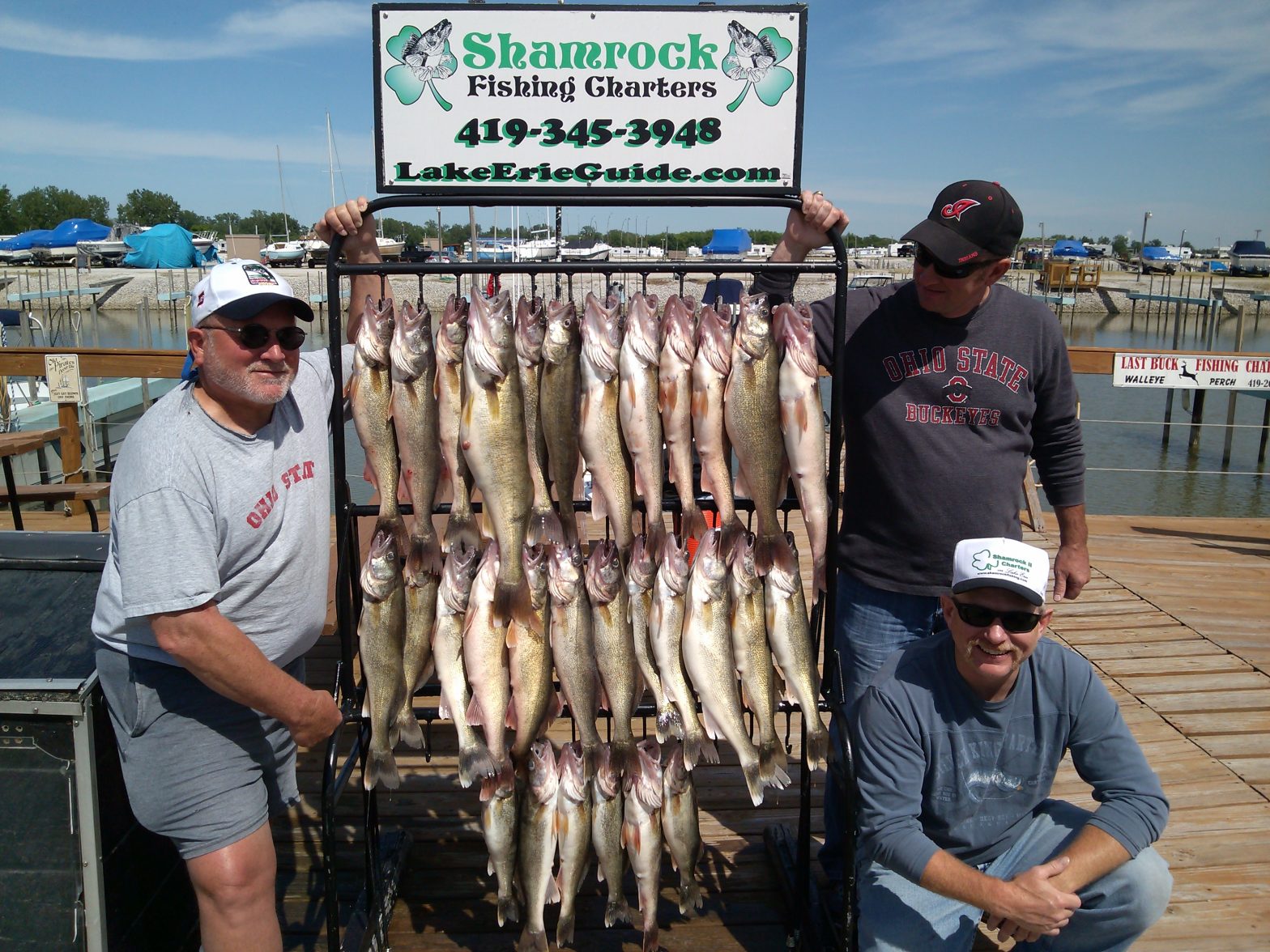 The walleye boom has started. Walleye trawl surveys in the western basin of Lake Erie documented enormous walleye hatches in 2015, 2018, 2019, and 2020. Also, the fifth largest hatch in 2021 and the 2022 hatch is the ninth largest in the 35 years of keeping records. Let's go walleye fishing in 2023.
The walleye estimates for the 2023 walleye season are at a whopping 151 million walleyes.
Consistent walleye fishing success in the western basin of Lake Erie depends on having good numbers of young fish in the system, now and in the foreseeable future. Book your next walleye charter at Lake Erie Walleye Charters with Captain John.
Anglers will mostly encounter walleyes from 17 to 25 inches from the 2014 and 2015-year classes. Many walleyes from the 2018-year class will be 17 plus- inches. Last fall, during perch season, we were catching small walleyes that measured six inches from this year's hatch.
 New this year: Ohio's annual fishing licenses are now valid 365 days from the date of purchase, and you can buy multiple other licenses. Now. http://www.wildohio.gov
Great Lake Erie Walleye Charters
Our Lake Erie Fishing Charters offer the finest fishing trips on the lake aboard the Shamrock. Walleyes are King on Lake Erie and worldwide as the place for excellent walleye fishing. It is also the home to many fishing tournaments for walleye, perch, and smallmouth bass.
Captain John's customers return yearly, proving how much they enjoy Lake Erie and their fishing charters aboard the Shamrock. Join Captain John, and you will see all the excitement.
In the Walleye Fishing Season on Lake Erie, we will see coolers full of 17 to 25-inch walleye. The average weight should be 2 to 5 pounds, with trophy walleyes over 28 inches always a possibility on Lake Erie.
You will be fishing on a fully outfitted charter boat with all the best drifting and trolling gear to meet all weather conditions on Lake Erie. Besides that, it is equipped with the latest US Coast Guard-approved safety gear. The boat is a 30-foot Baha Fisherman, featuring a large open cockpit; there's also plenty of room under the hardtop if sun or rain becomes an issue and a private head/restroom. Clean, comfortable fishing vessel for your fishing pleasure.
Catch The Excitement!   Call Captain John at 419-345-3948 today. Walleye Fishing and Perch Fishing season are getting started. Book your fishing trip soon! Lake Erie is "Where Walleyes Are King "- near Port Clinton, Ohio, and east of Toledo, Ohio.
You will be fishing with Captain John, a full-time charter captain on Lake Erie; you will have one of the most seasoned captains on Lake Erie as your fishing guide.
Booking A Fishing Charter
Booking your fishing charter online is easy because your work should be on board the Shamrock II, not our website. Simply navigate to the Lake Erie Charter Rates page and choose your charter. Check the calendar page at Booking Calendar/ Charters for available dates. Then, you can pay online by clicking on the Payment Button below the charter of your choice.
You can also book a Lake Erie fishing charter by sending us a message through our Contact Us drop-down (upper right of any page) or calling or texting us at 419-345-3948
Fishing Lake Erie's western basin from a 30′ Baha Fisherman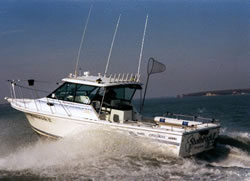 Fast and seaworthy
Lots of excellent fishing room
Fully insured and equipped for your safety. Restroom onboard
Fish Finders & Marine Radios
Clean and comfortable