Fishing Charter Lake Erie
Our fishing charter location is at the largest marina in the western basin of Lake Erie, Meinke West Marina, and Dock E-80. We are one of the oldest and finest charter services on Lake Erie's western basin., you can feel confident you will enjoy a fishing trip with us on Lake Erie.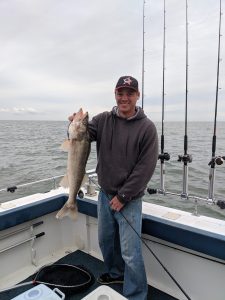 The marina is 10 miles east of Toledo, OH, off Route 2 on Lake Erie. Therefore, we are close to Ohio Turnpike and other major expressways. More importantly, we are the closest marina to West Sister Island, one of the best fishing grounds in Lake Erie.
Your fishing charter on Lake Erie involves drift fishing and casting light to medium spinning tackle. One technique is retrieving gold spinner rigs tipped with a nightcrawler at different depths. It can excite anglers with hands-on fishing experience.
Lake Erie Perch Charters is a great way to get the kids hooked on fishing. Lots of nonstop action in catching yellow perch; your catch can soar into the hundreds of yellow perch in the cooler in a couple of hours.
Yellow perch are considered by many to be the best-eating fish in Lake Erie because of their mild taste.
Meinke Marina West Office – 10955 Corduroy Rd. Curtice, OH. 43412 ( 419-836-7774 )
Take the 80/90 toll road to exit 71 in Ohio, and travel I-280 north for 7 miles to exit 7, Oregon, OH. (Route 2). The stoplight at exit seven, then right onto Wheeling street, and go to the next traffic light. St Charles hospital will be right at the light. A right onto Navarre (Route 2), and go about 10 miles to the corner of Teachout Rd & Route 2 (look for D&G ice cream). Left onto Teachout road and follow it until it dead-ends into Corduroy Rd. Right onto Corduroy, go 3/10th of a mile past the white farmhouse, then turn into the first drive. Follow it back to Shamrock Charter's dock E-80, and look for the sign.