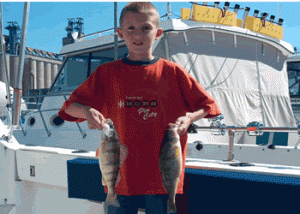 One of the most exciting fishing trips we offer is our yellow perch charter most importantly these trips can be great to start kids off fishing! There is nothing more challenging than catching doubles of yellow perch on a lightweight rod because they feel like monsters!!
You can expect good perch fishing in the western basin in 2019 as perch from the large 2014 are approaching sizes up to 13 inches. Hatches from 2015 through 2017 will also provide some smaller perch 7- to 9 inches. The 2018 year class is projected to be larger than the 2014- year class and will provide increased numbers of perch in upcoming years.
Tasty, Tasty, and Tastier
Perch are typically a schooling fish, which move from place to place looking for food. When found they like to thrive on the bottom portion of the lake. Perch may not be the largest fish in the lake, but they are certainly one of the best tastings because of their mild but firm meat. The jumbo perch (over 12 inches) are fighters as well but most importantly they taste good too!! Perch are active daytime feeders but tend to feed in short spurts, so you may be catching them steady and then they stop biting. Be patient because they will come back to feed again.
Perch Are Fighters
When perch are in a feeding frenzy you can put just about anything on a hook, therefore, it is not uncommon to pull one in after the other. The jumbo perch on Lake Erie are fun to catch because hooking 2 at a time can feel like a monster walleye!!
Perch Fishing Tips: Once you hook a perch and start reeling it to the surface, it will spit out the bait and chum the water. It's important to quickly bait your hook again and return it to the bottom of the lake in order to keep the perch under the boat actively feeding.
Another old-timer trick is to add a colored plastic flag to the anchor rope. The current will wave the flag to attract a school of perch.
What Do They Bite On? 
If you like to use live bait to attract fish, our bait of choice is small minnows. Perch also go for cut bait like crayfish meat, perch bellies, and perch eyes after you get them in a feeding frenzy with minnows. Perch are naturally curious and are attracted by color and flash. Add a small colored bead on the mainline just above the bait. The bead acts as a beacon to find the natural bait. This will increase your catch rates greatly, especially in stained water.
The action is nonstop once they begin to bite therefore this perch charter is great fun as a family outing or with the guys or gals. Your whole group will enjoy catching perch with Captain John. Catching doubles on crappie rigs tipped with shiners is a blast. When you get back home you have the added benefit of a tasty perch dinner but most importantly you will have memories to last a lifetime!!
Step 1 – Make sure you check our Booking Calendar/ Charters to see if your date(s) are available.  All dates are subject to prior booking, therefore, highlighted dates have a charter booked that day.
Note: On the payment page you will need to put the charter date(s) in the Comment section.
Step 2 – Click the button for full payment or deposit for this charter.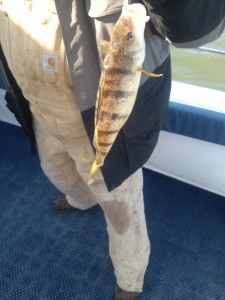 Lake Erie Perch Charters
Price is $660.00 + $5 per angler for bait
Six anglers or less
Lake Erie Perch Charters bag limits are 30 P/P daily.
Six people can catch 180 perch.
Fish cleaning available by the marina
We supply the boat, captain, experience, bait, lures, ice, tackle, rods, and reels.
7-hour charter or limit starting in July, August thru October: 7 am to 3 pm (Ohio Time)
$100.00 deposit per charter date required