Lake Erie Smallmouth Bass Charters
Smallmouth bass (smallies) entertain you with their leaps and tenacity to get loose therefore no matter the size you are in for a fight. Even a small one is going to fight and entertain you with high leaps from the water most importantly they taste as feisty!
The Best Smallies Are Here!
Lake Erie offers arguably the best smallmouth bass fishing in the United States, therefore, anglers travel from all over to fish the Western Basin. Smallmouth Bass are found along the entire shoreline of Lake Erie because of the hot spots along rocky structure and drop-offs in 15-35 feet of water.
Smallmouth Bass Sizes
The average smallmouth bass our customer's catch is between 2 and 4 pounds most importantly it's the best eating size.  On average we handle 30 to 90 smallmouth per fishing charter, therefore, there is always a hefty 5 or 6-pound trophy smallmouth to be caught. We are excited because the Ohio State record smallmouth is an impressive 8 lbs 4 oz caught on Lake Erie.
Other Lake Erie Species
Lake Erie is a great place for smallmouth fishing therefore if you are looking for a trophy smallie, come to Lake Erie. However, Lake Erie also offers walleye and perch fishing, therefore, expect the best possible fishing experience.
Smallmouth Limits are 5 p/p over 14 inches.
Step 1 – Make sure you check Booking Calendar/ Charters to see your date(s) are available. All dates are subject to prior booking, therefore, highlighted dates have a charter booked that day.
Note: On the payment page type the charter date(s) in the Comment section.
Step 2 – Click the button for full payment or deposit for this charter.
Smallmouth Bass Charter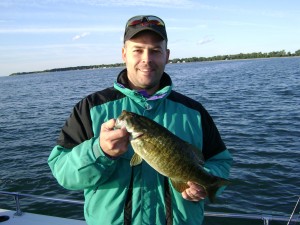 Price is $660.00
You may bring up to 6 people which would make the cost $110.00 P/P.
Soft craws are extra (recommend 15 to 20 dozen per trip).
Fish cleaning available by the marina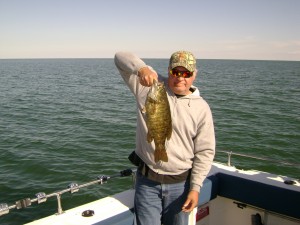 8-hour charters start in August thru October: 7 am to 3 pm (Ohio Time)
$100.00 deposit per charter date
We supply lures, ice, tackle, rods and reels. Soft craws and large minnows are extra