Shamrock Fishing Charter's History


Shamrock Fishing Charters was started by Captain Roger my father-in-law, and now is operated by me, Captain John Nickell. Although Capt. Roger is fishing in a better place now, he taught me the charter business like no other could. He was also an avid outdoorsman and an Ohio pistol champion in the late '60s.
The Early Years
I worked in the printing and packaging industry for 35 years and ran Lake Erie Walleye Charters on the weekends. Capt. Roger ran the trips during the week. Since my retirement from the printing and packaging industry,  I have been running the business full time. There are many "weekend" captains, fine sportsman as they may be, there is something to be said about a FULL-time captain's experience.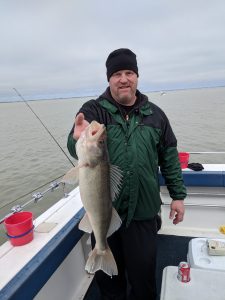 Teaching Fishing Techniques While Having FUN!!
Shamrock Fishing Charters teaches you the true meaning of sports fishing. We are on the water almost every day keeping us dialed into all the best fishing action because of this you have the very best opportunity to catch your limits of walleye or perch. A customer favorite is our Lake Erie Perch Charters. 
We drift fish or troll for walleye and allow our clients to handle their own rods, reels, and lures. Not only is this exciting most importantly this gives you experiences a variety of hands-on techniques. This is truly the most exciting and fun way to spend your day on Lake Erie, therefore, you will not forget the hit of a trophy walleye. When you set the hook into this aggressive game fish it is the kind of excitement you will remember for a lifetime. Our charter boat is fully equipped with the best drifting and trolling gear to meet the current Lake Erie conditions.
The Western Basin Is Where The Action Is!! 
Here in the Western Basin of Lake Erie we primarily fish for walleye, smallmouth bass, and yellow perch. We use several different fishing styles and techniques throughout the season depending on current Lake and weather conditions. We may start out the season jigging hair jigs for walleye in the shallow water or trolling crankbaits in deeper water.
As the season warms up we will start to drift and cast a spinner harness tipped with a worm or trolling various spoons with jet divers. Lake conditions such as current, wind, migration patterns and viability all play important roles in the style of fishing your captain will choose on a given day. Shamrock Fishing Charters provides our clients with the best opportunity for a successful fishing day on Lake Erie.
We can recommend convenient overnight lodging at Lake Erie Charters-Lodging that's close by our marina at Meinke West Marina. Don't miss out on the best fishing option on Lake Erie. Call or text Captain John at 419-345-3948 to reserve your fishing trips with Shamrock Fishing  Charters today.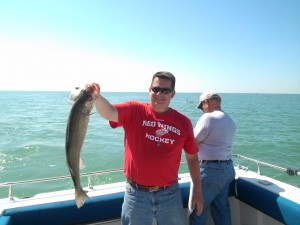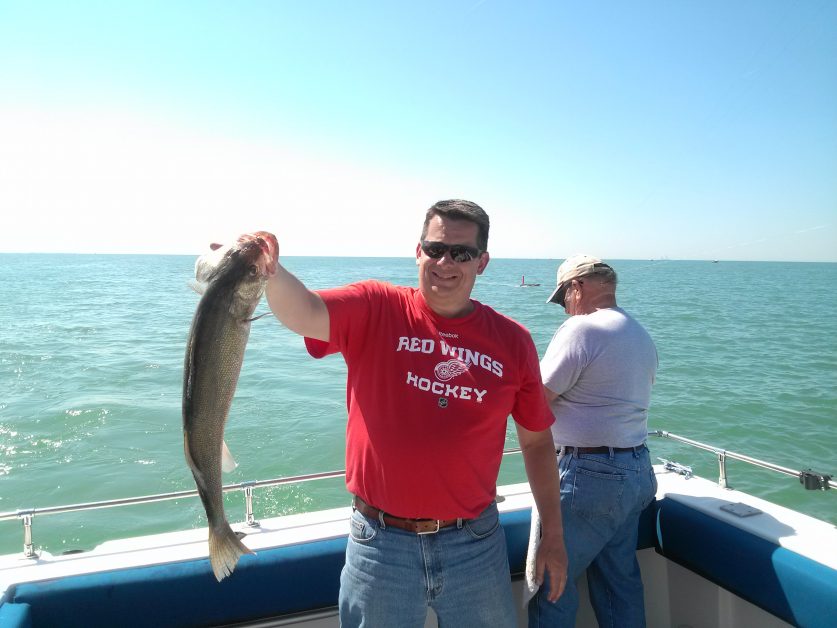 Shamrock Fishing Charters is docked in the Western Basin of Lake Erie…famously known as "The Walleye Capital of the World!"  The Western Basin of Lake Erie comprises about 1/3 of Lake Erie. It is a shallow basin with average depths of less than 25 feet because of this the Western basin enjoys World Famous walleye fishing grounds with numerous natural reefs and islands.
Walleye fishing is considered by anglers as one of the most popular species of fish because of this after fishing the Western Basin of Lake Erie you too will be hooked! Walleye feed aggressively and generally concentrated in large schools. Walleyes are great fun to catch by anglers of all ages and are highly sought after as superior table fare!