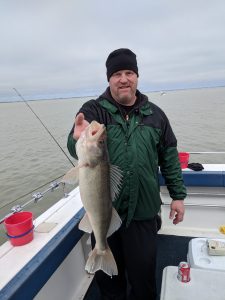 Suppose you're considering the costs of owning a boat versus booking a walleye fishing charter on Lake Erie. In that case, it's important to note that the expense of buying a boat could surpass the cost of booking several walleye fishing trips each year for ten years with Shamrock Fishing Charter! This demonstrates the exceptional value that Shamrock Fishing Charter provides for Lake Erie charters.
If you're considering owning a boat, it's essential to consider the various costs that come with it. In addition to the initial purchase price, there are ongoing expenses to consider, such as insurance, electronics, and safety equipment like life jackets. Maintenance costs, including oil changes, fuel, docking fees, boat storage fees, and winterizing, can also increase over time. And let's not forget about the cost of fishing equipment like rods, reels, and tackle.
If you want to save money, consider taking a Lake Erie Walleye Charter multiple times a year instead of owning and operating your boat. It's an underrated value that allows you to fish more and worry less. Focus on creating unforgettable memories instead of working on a boat. Share your fishing adventures with loved ones and leave the frustration behind. One of the most significant advantages of this experience is the opportunity to catch walleyes. Plus, with multiple charter trips, you can customize your trip to suit your fishing pleasure.

Join us at Shamrock Fishing Charters for a successful and relaxing fishing trip. Our experienced captain knows Lake Erie like the back of their hand and will take you to the best fishing areas of the day. We provide everything you need for a great fishing experience, including a 30-foot boat, bait, ice, fishing tackle, rods, and reels. Our team will make sure you catch plenty of fish to take home for a delicious fish fry.
We can arrange a fish cleaning service to take care of everything if you'd like. You don't have to worry about cleaning the boat, paying for fuel, changing oil, or performing routine maintenance. Our Lake Erie Charter Rates are competitive and offer the best value for your money. Book your charter trip now and experience the thrill of walleye fishing in Lake Erie!
Fishing License (REQUIRED)
Wear soft-soled shoes (No work boots, please)
Food and Drinks for the Day
Sunglasses and cap
Jacket and rain gear
Coolers to take your fish home
No glass bottles – Cans Only
Ohio Fishing License Fees
 Annual Resident License Cost $25.00
One-Day Non-Resident License Cost $14.00
Three Day Non – Resident License Cost $25.00
Annual Non-Resident License Cost $50.96
You can purchase your Ohio fishing license by marina on the day of your trip or online: https://oh-web.s3licensing.com/