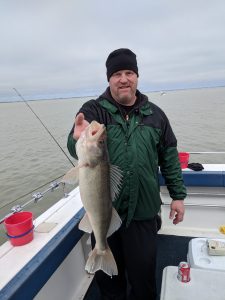 When you compare the cost of boat ownership to booking a charter, just the cost of purchasing a boat can far outweigh booking 10 trips a year for 10 years!! This is truly a Lake Erie Charter Value!
Not to mention the yearly incidental expenses and the time spent preparing the boat for fishing.
Incidental yearly costs of boat ownership. Like insurance, electronics, and radio. US-approved safety equipment, and inspections. Maintenance costs, fuel, docking fees, boat storage, and winterizing the boat. most importantly rods and reels and tackle to catch fish. Being able to safely navigate and fish on the body of water you choose.
You can take a Lake Erie Walleye Charters many times a year and save thousands of dollars every year compared to owning and operating your own boat.
One of the more overlooked Lake Erie Charter Values so why not fish more, worry less. Work on creating memories not working on a boat. Share fishing stories with friends and family, not frustration.

The real advantages are catching walleyes
You get an experienced Lake Erie fishing captain and guide who fishes the lake every day and knows the waters well.
Therefore a successful relaxing fishing trip is possible. Our Lake Erie charter boats will supply the fishing gear –ice- bait – tackle- rods and reels and our 30-plus years of knowledge fishing Lake Erie.
Shamrock will go to the best fishing area that day and catch our customer's a lot of fish. When we return to the dock. I will take your catch to be cleaned and bagged if you request this service.
So you will also save lots of time and work. You won't have to clean, fuel, change oil, and perform routine maintenance. Lake Erie charter boats are your best buy anywhere. The prices are lower than in any other area in the world.
Fishing License (REQUIRED)
Wear soft-soled shoes (No work boots, please)
Food and drinks for the day
Sunglasses and cap
Jacket and rain gear
Coolers to take your fish home
Camera and Film
No glass bottles – Cans Only
Ohio Fishing License Fees
 Annual Resident License Cost $25.00
One Day Non-Resident License Cost $14.00
Three Day Non – Resident License Cost $25.00
Annual Non-Resident License Cost $50.96
Purchase your Ohio fishing license by marina day of your trip or online https://oh-web.s3licensing.com/
Purchase Canadian fishing licenses instantly online on the same day with this link.
GET a Canadian Fishing License