Lodging for Your Lake Erie Fishing Charters….

with phone numbers, and close in proximity to Meinke West Marina therefore very convenient and enjoyable for your stay!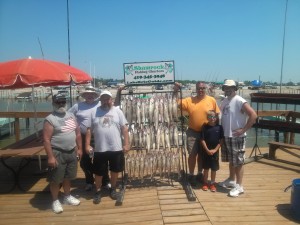 ---
Walleye Willi's
Right on the canal to lake therefore we will pick you up at their docks.
Call Chris at 419-836-7862 they have and most importantly they have unique qualities you may enjoy.
The Lodge or the Bunkhouse
1520 Coolie Rd., Curtice, OH
$35.00 per person, bunkhouse rate is $30.00 per person
Accommodations include Fantastic View of Lake Erie and Marina's, 6 single beds with foot lockers and besides that table, chairs, color TV, AC, refrigerator, large bathroom, continental breakfast.
On the canal leading to the lake therefore we provide charter pick up at docks in front of lodge.
---
REEL INN
Nice Place besides that is only 3 minutes to marina!
419- 825-5085 or  419-351-7964 cell
11854 Corduroy Rd., Curtice, OH 43412
$35.00 per person – 3 bedrooms with 2 beds per room besides that 2 full bathrooms, full kitchen, cable TV, AC, outside deck with grill.
---
Inexpensive and more importantly just 2 minutes from the marina!!
419-836-2822
10530 Corduroy Rd., Curtice, OH 43412
$59.95 Fishing Rate – 2 double beds ( 1 – 4 people ) Rollaways $10.00 besides that remote TV, cable & HBO Microwave & Refrigerator.
---
Ask for fishing rate $75.00/night but more importantly just 12 minutes from the marina.
419-691-8911
2930 Navarre Ave, Oregon, OH 43616
Just 12 minutes to dock at Meinke West Marina besides that a free continental breakfast, Pool, Rollaways $7.00 Nice Place.
---
Sleep Inn Suites – 15 minutes from marina
419-697-7800
I-280 at Exit 6
1761 Meijer Circle
Oregon, OH
Fishing Rate $79.00/per night besides that a free Continental Breakfast, Remote TV, HBO and Cable. Indoor pool, Fitness Center, Deluxe Accommodations
---
Holiday Inn Express – 12 minutes from marina
419-691-8800
3139 Dustin
Oregon, OH
Maumee Bay State Park Lodge –  5 miles to marina
Campsites with electric/ RV's or tents besides that 120 Rooms at lodge / Cabin Rentals sleep 6 to 12 people
800-282-7275 200
419-836-1466
1750 Maumee Bay Park
Oregon, OH 43616
http://www.maumeebayresort.com
B&B Railroad Depot  Bed and Breakfast
  www.bbrailroad.com 
Innkeeper Linda Brinkman  419-690-7137
5331 Cedar Point Road, Oregon, Ohio 43616
Minutes from Meinke Marina West::
Hampton Inn 2931 Navarre Ave, Oregon, OH. 43616    419-724-3333
15 minutes to Shamrock Dock