CLICK HERE and visit our FaceBook page for Lake Erie Fishing Reports & more pictures of our customers catches on Lake Erie.
Ohio has gone to a computerized system for obtaining a fishing license. I suggest you purchase them online at https://oh-web.s3licensing.com/ and save you a lot of time waiting in line. You will need your SS# to get a license.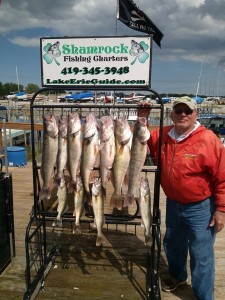 May charter. First mate Jay posed for the picture. S
We didn't catch numbers of walleye that we wanted to, but six of the walleyes hanging on the board were over 28 inches. Purple hair jigs tipped with a piece of crawler.
---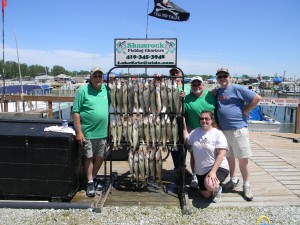 Ray, Pam, and Bill had a fun day catching 30 walleyes with Capt. John and mate Jay. We caught these walleyes in 21 feet of water.
---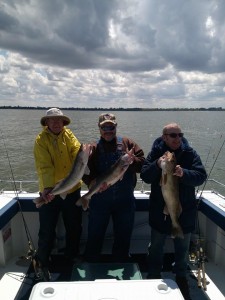 Guys holding three walleyes over 28 inches. We had a total of six walleyes over 28 inches on this trip. Great weather produced fantastic walleye fishing for the guys.
---
---
---
Guys caught their limit of walleyes casting weapons tipped with a crawler. It was a fast bite with lots of constant action of reeling in marble eyes. I was busy running around the boat netting walleyes and putting them on ice in the fish cooler.

---
 We caught 30 walleyes on Friday the 13th. Who thought Friday the 13th walleye fishing would be so good.  On the 14th we caught 28 walleyes. The mayflies hatched and slowed down the catch rate, plus the 13th we fished in 3 to 5-foot waves than on Saturday the lake went flat. Today on fathers day we caught 42 walleyes that weighed in at 110 pounds. We had a steady SE wind all day that made a difference. Look for stained water and you will find some active feeding walleye.
---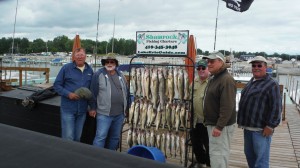 Riverside Fishing Club caught 48 walleyes on July 16 that weighed 106 lbs. They caught over 100 walleyes for the 3 days of fishing with Shamrock Fishing Charters.