Lake Erie Walleye and fried Perch Recipes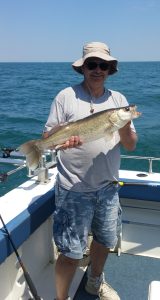 Beer Batter Walleye
6 Walleye fillets
2 cups flour
1 tsp. salt
1 tsp. black pepper
1 cup of vegetable oil
One quartered lemon
2 cups beer
Cleaned and pat dry fish fillets
Mix beer, flour, salt, and pepper into a bowl to make a thick batter.
Dip fish into batter and coat heavily, then place into the hot oil.
Heat oil in a heavy skillet over a medium-hot flame. It should be hot enough to make the fish sizzle when it hits the hot oil. Cook for 3 minutes per side or until golden brown.
Squeeze lemon onto fish and serve.
Broiled Walleye Recipe
2 lbs. of Walleye fillets
4-5 Tablespoons of Lemon Juice
3-4 Garlic cloves, minced.
3 Tablespoons of Soy Oil
3 1/2 Tablespoons White Wine
Three pinches of fresh chopped sweet Basil
Salt & Pepper to Taste
Blend all ingredients. It should be a paste-like texture.
Cut the fillets into strips 1/2″ thick. Place them on a broiler, skin down. Brush the fillet with paste and sprinkle paprika. Broil one side for 5 to 6 minutes. If you prefer a sauce, use a marinade of fresh garlic, Dijon mustard, lemon juice, mayonnaise, and soy oil. Garnish with fresh parsley and some lemon wedges.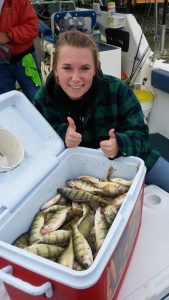 Oven Fried Spicy Perch
1 1/2 lbs. fillets, about 1/2 inch thick
3/4 cup cornmeal
1/4 cup all-purpose flour
1/2 tsp. salt
1/2 tsp. garlic powder
1/2 tsp. dried oregano leaves
1/2 tsp. ground red pepper (cayenne)
1/2 tsp. pepper
Two large eggs, beaten.
3 Tbsp. Butter or margarine, melted.
Heat oven to 500 degrees F. Cut fillets into 4 x 2-inch pieces. Mix the remaining ingredients except for eggs and margarine/butter. Dip fish into eggs, then coat with the cornmeal mixture. Place fish on a cookie sheet. Drizzle butter/margarine over fish and bake for 10 to12 minutes, turning fish once, until golden brown.
Cracker Crusted Perch
2 Eggs

1/2 cup Milk
2 cups Butter-flavored cracker crumbs
1/2 tsp Garlic salt
1/4 tsp Dried oregano
1/4 tsp Dried tarragon
1/4 tsp Freshly-ground black pepper
1 Lb. Lake perch fillets
Cooking oil
In a shallow bowl, beat eggs and milk. Combine cracker crumbs, garlic salt, oregano, tarragon, and pepper in another shallow bowl. Cut perch into serving-size pieces, dip in egg mixture, then coat with crumbs.
Heat oil in a skillet over medium heat. Fry fish for several minutes on each side or until it flakes easily with a fork.
This recipe yields four servings.
Comments: Your favorite fisherman will enjoy eating fried fish in this delicious golden coating.